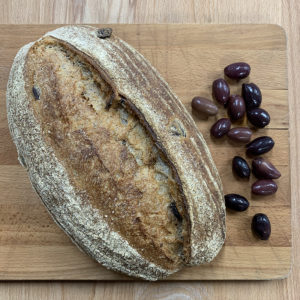 This loaf has a similar dough to our white sourdough and is packed with Kalamata olives. The tang of sourdough complements the salty olives perfectly – works great with tapas.
Suitable for vegetarians and vegans.
Ingredients: Wheat, rye, olives, salt.
May contain trace amounts of mustard.
---
Please note: Allergens are identified in bold in the ingredients list. Some of our products contain Yorkshire Organic Millers wholemeal flour which may contain traces of mustard in it, so this is noted.
Due to the processes we use in the bakery and the handmade nature of our products, there is a small risk of cross-contamination between products. We do our very best to aim to prevent this but must point out the potential risk, most likely with nuts and sesame seeds.