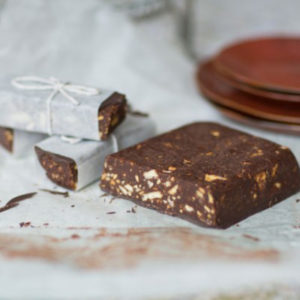 A crunchy sweet cocoa and biscuit base with a big dollop of organic peanut butter. Imagine peanut butter and chocolate spread on toast, and say no! I want more! Well this is what you want! A slab of tiffin is 8′ x 3.5′, ready for you to cut as required.
Suitable for vegetarians and vegans.
Ingredients:
Organic Peanut Butter, Organic Plain Chocolate (Cane Sugar, Cocoa Mass, Cocoa Butter, Vanilla, Soy Lecithin), Sunflower spread (Sunflower Oil, Vegetable oils [Certified Sustainable Palm Oil and Linseed], Salt, Flavouring, Vitamin E, Vitamin A & D, Colour [Carotenes], Vitamin B12), Unrefined Light Muscovado Sugar, Rich Tea Biscuits (Wheat Flour, Sugar, Palm Oil, Glucose-Fructose Syrup, Barley Malt Extract, Salt, Raising Agents [Sodium Carbonates, Ammonium Carbonates]), Organic Fairtrade Cocoa Powder, Golden Syrup.
---
Please note: Allergens are identified in bold in the ingredients list. Due to the processes we use in the bakery and the handmade nature of our products, although we do our very best to aim to prevent this there is a small risk of cross-contamination between products, the most likely being nuts, peanuts and gluten.
All That Old Chestnut products are free from animal products, eggs and dairy and are produced in a 100% vegan bakery.