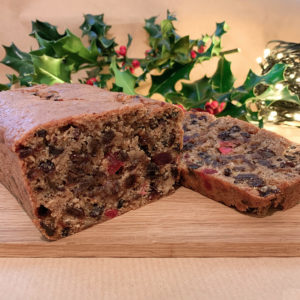 We've added some extra sparkle to this traditional recipe by including generous helpings of currants, raisins, sultanas, and natural glacé cherries, along with warming spices and vanilla.
Available during December only.
Suitable for vegetarians and vegans.
Ingredients:
Organic Self Raising Wheat Flour, Light Muscovado Sugar, Nutmeg, Cinnamon, Mixed Spice, Currants, Raisins, Dried Cherries, Mixed Peel (Orange peel, lemon peel, glucose syrup, preservatives e202, e220. sulphur dioxide), Lemon Peel, Salt, Hemp Milk, Orange Juice, Rapeseed Oil, Vinegar (Contains: Barley), Vanilla Extract.
---
Please note: Allergens are identified in bold in the ingredients list. Due to the processes we use in the bakery and the handmade nature of our products, although we do our very best to aim to prevent this there is a small risk of cross-contamination between products, the most likely being nuts, peanuts and gluten.
All That Old Chestnut products are free from animal products, eggs and dairy and are produced in a 100% vegan bakery.