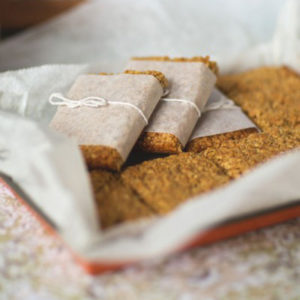 Deliciously more-ish, lots of oats bound together with golden syrup, great for a long lasting energy treat! A sheet of flapjack is 13″ x 9″ and comes pre-cut into 8 pieces, but you can easily cut them into smaller portions if required.
Suitable for vegetarians and vegans.
Ingredients:
Oats (Contain:Gluten), Rapeseed Oil, Golden Syrup, Unrefined Light Muscovado Sugar.
---
Please note: Allergens are identified in bold in the ingredients list. Due to the processes we use in the bakery and the handmade nature of our products, although we do our very best to aim to prevent this there is a small risk of cross-contamination between products, the most likely being nuts, peanuts and gluten.
All That Old Chestnut products are free from animal products, eggs and dairy and are produced in a 100% vegan bakery.