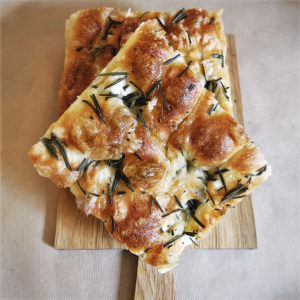 Topped with lots of extra virgin olive oil, Maldon sea salt crystals and fresh rosemary. A whole sheet is 18 x 30 inches. Our focaccia is risen enough to use for sandwiches or serve as it comes.
Additional Toppings available:
OLIVE & RED ONION – Kalamata olives with sliced, salted and oiled red onions.
AUBERGINE & HERB SAUCE – Aubergine, mint, coriander, parsley, garlic, lemon, sherry vinegar, pomace oil.
TOMATO & GARLIC OIL – Slow roasted tomatoes with garlic infused olive oil.
POTATO & GRANA PADANO – Potatoes, grana padano, pomace oil, thyme. (Please note this topping is NOT suitable for vegans & vegetarians*.)
RED ONION & ZA'ATAR – Red onion, extra virgin olive oil, lemon, za'atar (thyme, sumac, sesame)
Suitable for vegetarians and vegans unless indicated above*.
Base Ingredients: Wheat, olive oil, baker's yeast, salt.
---
Please note: Allergens are identified in bold in the ingredients list. Some of our products contain Yorkshire Organic Millers wholemeal flour which may contain traces of mustard in it, so this is noted.
Due to the processes we use in the bakery and the handmade nature of our products, there is a small risk of cross-contamination between products. We do our very best to aim to prevent this but must point out the potential risk, most likely with nuts and sesame seeds.