We don't like to see food go to waste here at Leeds Bread Co-op, so on the off chance you have found yourself left with a few stale hot cross buns after Easter may we suggest you take those buns and make them into pudding, specifically Hot Cross Bun Bread & Butter Pudding!

This recipe is pretty adaptable, try not to overly worry about the quantities as there is plenty of room for flexibility, particularly if you have lots of hot cross buns to use up! Our hot cross buns are pretty large so six of them was more than enough to fill our 2 litre pyrex dish (it measures approximately 8 x 8 x 2.5 inches for reference).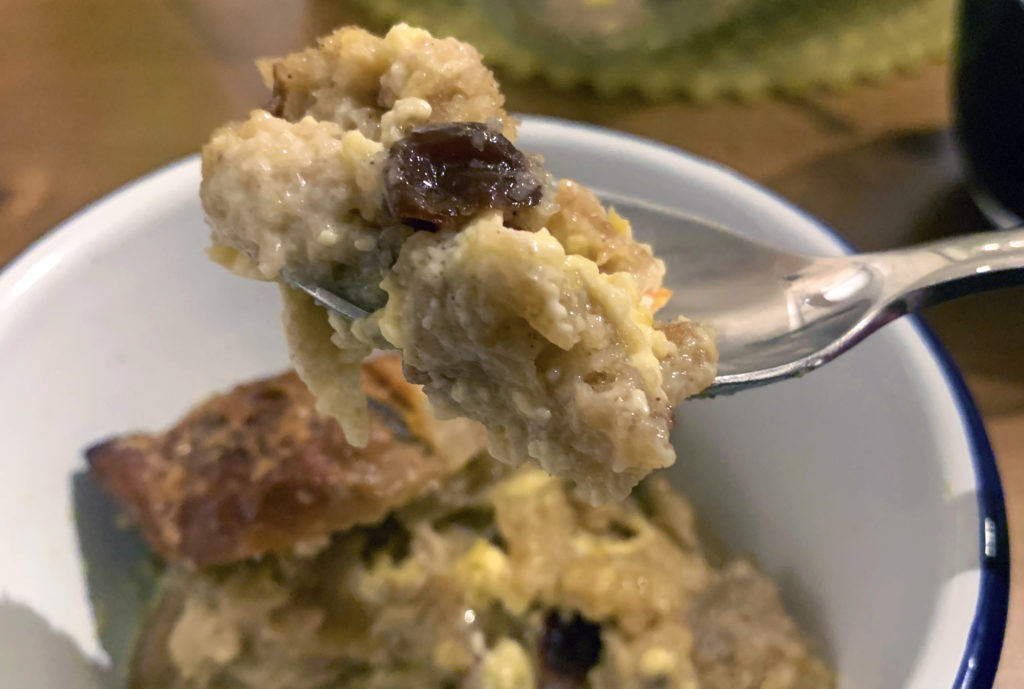 Ingredients:

6 hot cross buns
1 Lemon, finely grated zest
3 – 4 tbsp Golden caster sugar
100g/4oz butter
2 eggs
150ml milk
300ml double cream
Method:

1. Heat the butter in a pan (or in the microwave if you prefer) until it is melted.

2. While the butter is melting, slice up your hot cross buns. We cut each hot cross bun into three pieces as ours were quite tall!

3. Using some of the melted butter, grease your dish. Then dip a slice of hot cross bun into the melted butter and place butter side down in your dish. Continue until you have completely covered the bottom of the dish with a layer of buttery hot cross bun pieces. Sprinkle the layer with some of the lemon zest and golden caster sugar (to taste). Repeat this process until your dish is full. For the final layer we used the tops of the hot cross buns for decorative purposes.

4. To make the custard, whisk together the eggs, milk and double cream in a bowl or jug and then pour it over the layers of hot cross buns. Sprinkle with a little bit of golden caster sugar to taste. Then cover your dish and let those hot cross buns soak in their lovely custardy bath for an hour or so.

5. Don't forget to preheat your oven – it needs to be at 180C/350F/Gas Mark 4. Then bake your pudding for about 30 to 40 minutes. You want the custard to have firmed up and the top to be slightly crispy.

6. Eat and enjoy! If you like it with custard, have it with custard or if your prefer ice-cream or a dollop of extra thick double cream, go for it! Have it any damn way you want, hot or old or anywhere in between. We're not really ones to tell you how you should enjoy your food – you do you!
Notes:

You might need a smidge more butter than the recipes calls for, we found our hot cross bun slices to be extra thirsty and had to melt a little bit more!
We cut our hot cross buns through the middle but if you want to slice them like they are little loaves of bread then you go for it – just make sure each slice is thick enough that it won't just disintegrate!
Our custard filled the dish almost to the top, if yours doesn't then we would recommend making up some more of the custard mixture to top it up (maybe try halving the original quantities initially).